Fourth Annual Feast of the Seven Fishes
December 15, 2021 06:00 PM

The Feast of the Seven Fishes is a traditional Italian celebration of Christmas Eve with fish and other seafood as the center of the feast. Christmas Eve is a vigil, or fasting day, and the abundance of seafood reflects the observance of abstinence from meat until the feast of Christmas Day itself.
While our feast is not being held on the tradition of Christmas Eve, we want to celebrate the bounty of our beautiful coastal seafood selections in order to extend our holiday jubilations.
Join us for seven courses thoughtfully planned and prepared by The Depot and The Hound in collaboration: Chef Robbie Nicolaisen from The Hound and Chef de Cuisine Adam Beckel from The Depot have joined forces to lead their teams in harmony with one another to add a playful twist on this classic dinner using the best of what our coast has to offer.
With a choice of dinner only for $115 plus tax, or dinner with wine pairings included for $150 plus tax, we're here to ensure you enjoy the best version of our Feast of the Seven Fishes. Pairings include 5 wines: one sparkling, one white, one rose, and two reds, in progression with the richness of the courses.
Pricing includes gratuity, but tax will be added on at a rate of 9% when you check out. If you have any questions, please email our GM, Katelyn Kupiec at Katelyn@allaboardauburn.com
Menu subject to change and based on availability.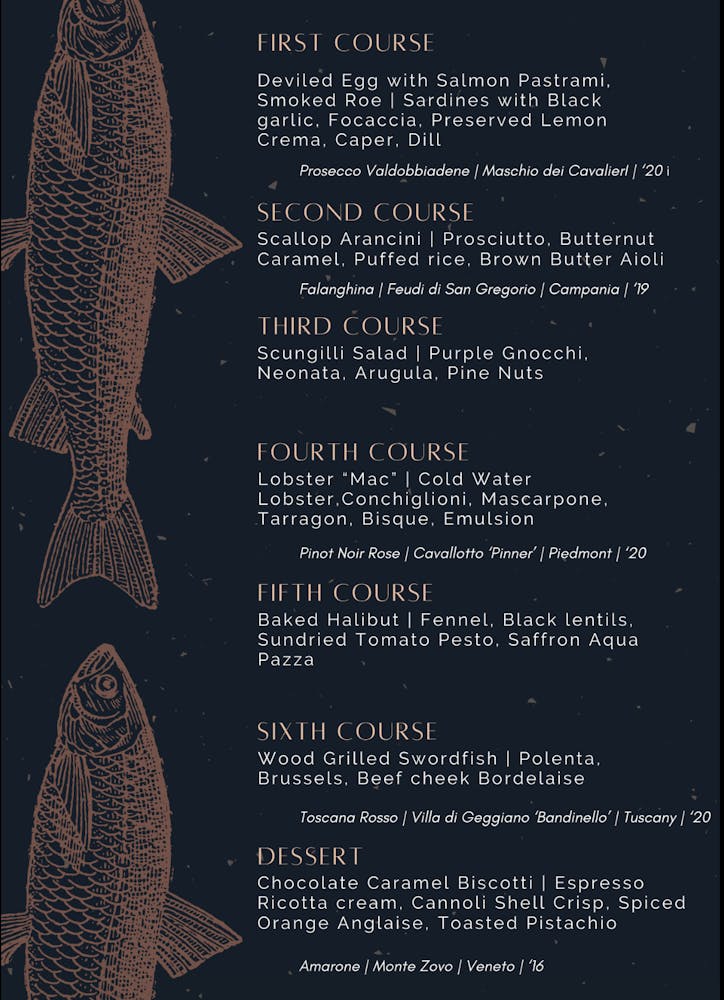 BUY TICKETS!