Main content starts here, tab to start navigating
Menus
Slide 1 of 9
Slide 2 of 9
Slide 3 of 9
Slide 4 of 9
Slide 5 of 9
Slide 6 of 9
Slide 7 of 9
Slide 8 of 9
Slide 9 of 9
Please click PDF attachment to view current Brunch Menu
Download PDF
This menu is available for dine-in and patio only
*If you are looking to order online for pickup or delivery, click here!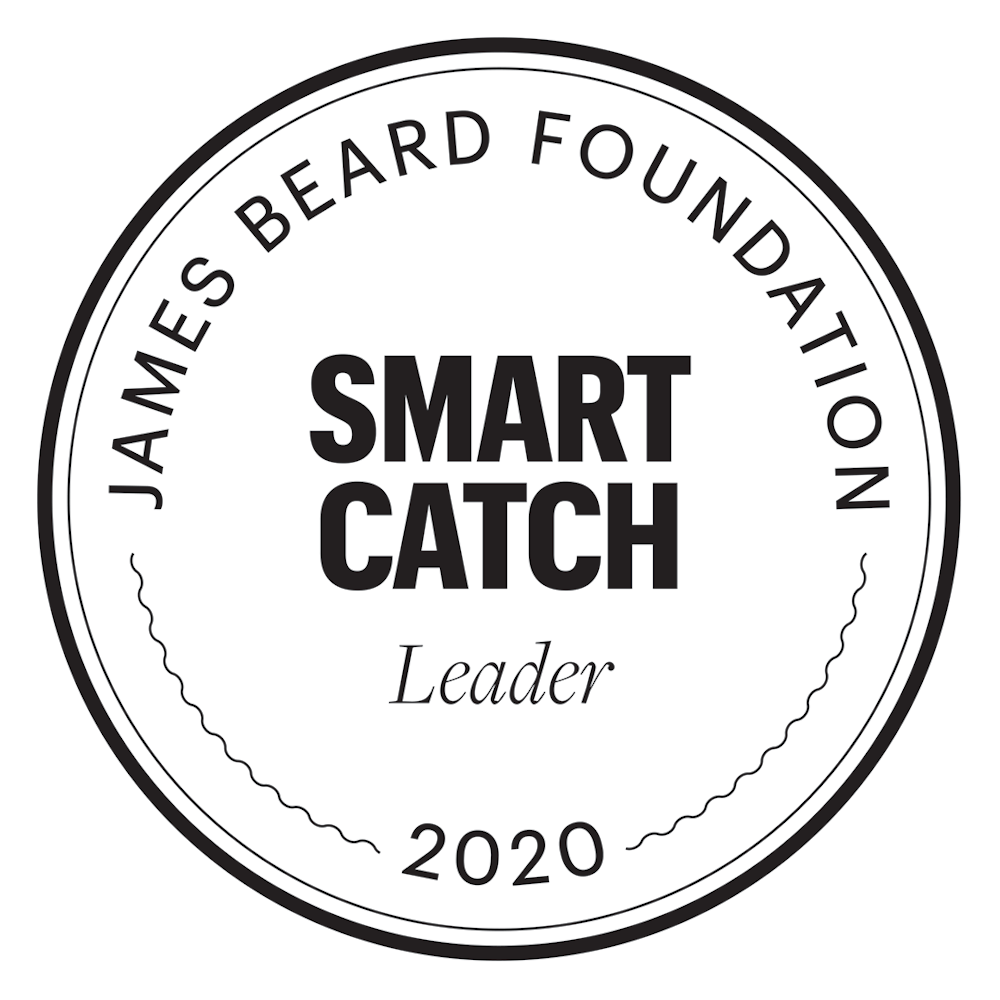 Starters and Shareables
Local Garden Salad

Ralf's Local Lettuce, Feta Cheese, Roma Tomatoes, Shaved Red Onion, Pickled Green Beans, Herb Vinaigrette & Balsamic Glaze (GF, VGO)

$10

Half-Dozen Oysters Rockefeller

Creamed Spinach, Bacon, Garlic, Fennel, Sweet Onion, Herb Parmesan Panko Crust, Charred Lemon

$16

Spicy Blue Crab Dip

Mexican Pork Sausage, Melted Cheese, Blue Crab, Dill Dusted Corn Tortilla Chips

$14

Coconut Curry Shrimp

Lemongrass, Kaffir Lime, Chili & Scallions & Sourdough Toast (GFO)

$14

(GF - Gluten Free. V -Vegetarian, VG - Vegan, O - Optional)
Fresh Daily Oysters
All Raw Oysters served with Lemon Wedges on Crushed Ice & House Made Green Apple, Ginger & Shallot Mignonette.
*Little Wicomico. Chesapeake, VA

Medium - Large Size, Mild Salinity, Sweet Taste & Clean Finish (GF)

$1.75

*Cedar Point, Pelican Reef, FL

Plump Meats, Sweet Corn, Strong Salinity (GF)

$2.25

*Mon Louis, Coden, AL

Moderate Brine, Slight Roasted Artichoke Flavor, Mineral hint at End (GF)

$2.25

*Murder Point, Bayou La Batre, Al

Plump Oyster, Buttery, Fresh, Crisp Finish (GF)

$2.50

*Consuming raw or undercooked meats, poultry, seafood, shellfish, or eggs may increase risk of food-borne illness
Sides
$6 Each
Kimchi Fried Rice (GF. VG)

$7

Bacon Sauteed Green Beans (GF, VO, VGO)

$7

Local Sweet Creamed Corn (GF, V)

$7

Roasted Wild Mushroom Medley (GF,V)

$7

McEwan Farms Smoked Gouda Grits (GF,V)

$7

Butter & Garlic Smashed Yukons (GF, V)

$7

(GF - Gluten Free. V -Vegetarian, VG - Vegan, O - Optional)
Mains
Meat, Poultry, Seafood
1/2 LB Grilled American Wagyu Truffle Burger

Lettuce, Tomato, Bacon Mayo, Gouda, Homemade Potato Chips (GFO)

$17

Springer Farms Sous Vide Chicken Breast

Bacon Green Beans, Garlic Smashed Yukons, Chanterelle Sherry Sauce (GFO)

$21

Pan Seared Carolina Rainbow Trout

Stir Fry Vegetables, Bamboo Rice, Ginger, Soy, Garlic, Chili & Sesame Glaze

$24

Crispy Beeler Farms Can Can Pork Chop

Spicy Asian BBQ Sauce, Mustard Vidalia Slaw (GFO)

$29

Wood Fire Grilled Wild King Salmon

Roasted Rosemary Garlic Potatoes, Broccolini, Lemon Caper Miso Butter (GF)

$29

Pan Seared Maryland Style Blue Crab Cakes

Creamed Local Corn, Black Bean Salsa, Chorizo Oil, Cilantro

$29

14 OZ. Wood Fire Grilled Linz Farms Prime NY Strip

Garlic Smashed Yukons, Wild Mushroom Medley Garnish, Blue Cheese Beurre Blanc (GF)

$36

Roasted 1.5 LB Maine Lobster on The Half Shell

Kimchi Fried Rice, Baby Bok Choy, Togarashi Butter (GF)

$38

(GF - Gluten Free. V -Vegetarian, VG - Vegan, O - Optional)
Desserts
Apple & Lemon Mascarpone Crumble

Almond Granola Crumble Topping, Vanilla Bean Ice Cream, Mint

$7

Bananas Foster French Toast Bread Pudding

Creme Brulee Custard, Vanilla Bean Ice Cream, Spiced Rum Caramel

$7

Triple Chocolate Espresso Pot De Creme

Orange Zest & Milk Chocolate Custard, Grand Marnier White Chocolate Mousse, Dark Chocolate Covered Espresso Beans, Whiskey Caramel Sauce

$7
Cocktails & Wines by the Glass. To see our Reserve list for Whites & Reds, please click the blue "DOWNLOAD PDF" button at the bottom. Cheers!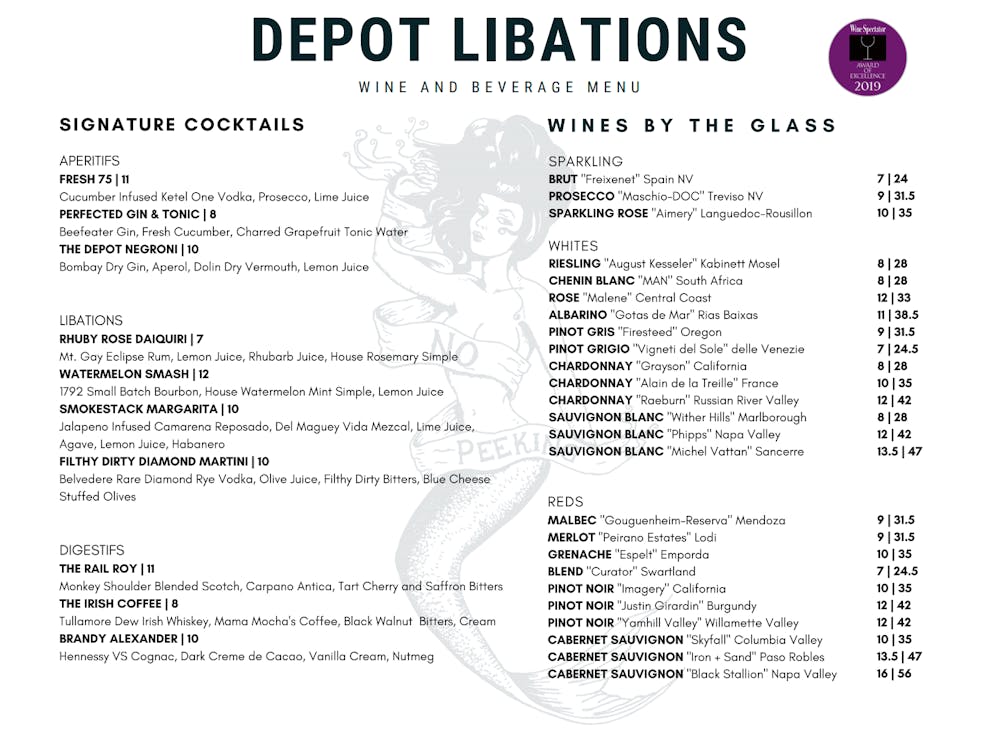 Download PDF
Draft Beer Selection
Back Forty

Truck Stop Honey Brown Ale 16oz

$6

Fairhope

Amber Ale 16oz

$6

Cigar City

Jai Alai IPA 14oz

$6

Ghost Train

Kaleidoscope Kettle Sour 12oz

$6

Good People

Snake Handler 2X IPA 14oz

$6

Straight to Ale

Chill Pils 16oz

$6

Sierra Navada

Pale Ale 16oz

$6

Victory

Golden Monkey Belgian Tripel

$6
Bottle and Can Selection
Abita Andygator

$5

Blue Moon

$4

Bud Light

$3

Budweiser

$3

Coors Light

$3

Hop Dang Diggity IPA

$5

Michelob Ultra

$3

Miller Lite

$3

Modelo Especial

$5

Stella Artois

$4

Guinness

Can

$5

Good People IPA

Can

$5

Trim Tab Raspberry Berliner Weisse

Can

$5