Main content starts here, tab to start navigating
Menus
Slide 1 of 9
Slide 2 of 9
Slide 3 of 9
Slide 4 of 9
Slide 5 of 9
Slide 6 of 9
Slide 7 of 9
Slide 8 of 9
Slide 9 of 9
This menu is available for dine-in and patio only
We change our menu daily and the menu for the day will be posted by 5:00 pm
*If you are looking to order online for pickup or delivery, click here!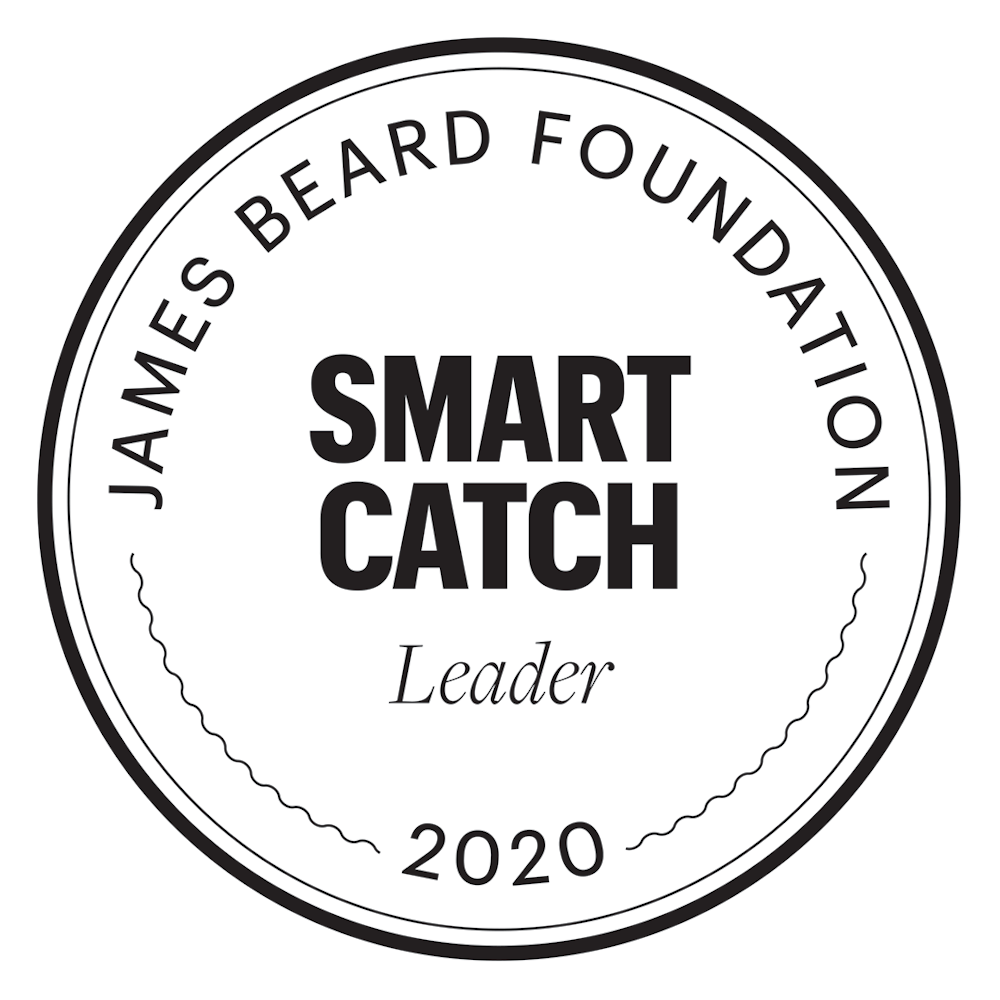 Starters and Shareables
Butternut Squash & Coconut Cream Soup

Ginger, Cilantro, Curry Croutons (GFO)

$9

BLE- Bacon, Bibb Lettuce, & Poached Egg Salad

Pickled Vegetables, Buttered Croutons, Shaved Parmesan, Lime Caesar Dressing (GFO)

$12

Spicy Blue Crab Dip

Mexican Style Chorizo Pork Sausage, Melted Cheese, Blue Crabmeat, Dill Dusted Corn Tortilla

$14

Half Dozen Baked Oyster Rockefeller

Creamed Fennel & Spinach, Parmesan Herb Crust

$14

(GF - Gluten Free. V -Vegetarian, VG - Vegan, O - Optional)
Mains
Meat, Poultry, Seafood
Pan Seared Carolina Rainbow Trout

Bacon & Apple Cider Braised Cabbage, Grain Mustard Butter (GF)

$26

Caccuicco (Tuscan Seafood Stew)

Fresh Catch, Shrimp, Mussels, Simmered Tomatoes, Garlic, White Wine, Chili Flakes, Saffron & Herb Broth & Asiago Toast (GFO)

$28

Grilled Whole Mediterranean Branzino

Fennel & Meyer Lemon Salad, Rice Pilaf, Fig Balsamic Glaze (GF)

$32

Cajun-Stuffed Maine Lobster Bienville

Spicy Andouille, Garlic, Cayenne Blue Crab Stuffing, Buttered Broccolini, Blue Corn Grits, "Sazerac" Buerre Blanc (GF)

$39

Snake River Farms 1/2 LB Grilled American Wagyu Burger

Ralf's Bibb Lettuce, Local Tomato, Bacon Mayo, Gouda, Sea Salt French Fries (GFO)

$17

Crispy Skin Joyce Farms Half Chicken

Honey, Garlic & Chili Glaze, Sautéed Asparagus, Grilled Sweet Potatoes (GFO)

$26

Tea Brined Beeler Farms Can Can Pork Chop

McEwen Blue Corn Grits, Bacon Balsamic Brussels, Asian Gochujang BBQ (GFO)

$30

Grilled 12 oz Dry-Aged Black Angus Ribeye

Duck Fat Onion Mushroom Hash, Green Peppercorn Au Poivre (GF)

$34

(GF - Gluten Free. V -Vegetarian, VG - Vegan, O - Optional)
Fresh Daily Oysters
All Raw Oysters served with Lemon Wedges on Crushed Ice & House Made Green Apple, Ginger & Shallot Mignonette. See Happy Hour Pricing in PDF menu above.
*Va Va Voom, Lower Chesapeake Bay, MD

Medium Brine, Soft Mossy, Floral Hints Clean, Crisp Finish (GF)

$2

*Turtleback, Portersville, AL

Plump Meats, Sweet Corn, Moderate, Salinity (GF)

$2

*Saucy Lady, Wakulla, FL

Medium Sized, Medium Brine, Slight Mineral Finish (GF)

$2.50

*Boondocks, Wakulla FL

Medium-Size, Medium-Brine, Vegetal Hint (GF)

$2.50

*Blackberry, Hang Reef, Chesapeake, VA

Mild Brininess, Plump Meats and Very Mild Flavor (GF)

$2.25

*French Hermit, Deer Island, MS

Buttery, Garden & Sea, Delicate Cucumber Finish (GF)

$2.50

*Consuming raw or undercooked meats, poultry, seafood, shellfish, or eggs may increase risk of food-borne illness
Sides
$7 each
Sea Salt & Fresh Horseradish House Cut Fries (V)

Savory Mashed Sweet Potatoes (GF,V)

McEwan Farms Smoked Gouda Grits

Duck Fat Roasted Onion & Mushroom Yukon Hash (GF)

Bacon Balsamic Brussels Sprouts (GF)

(GF - Gluten Free. V -Vegetarian, VG - Vegan, O - Optional)
Desserts
Goat's Milk Vanilla Crème Brûlée

White Chocolate Mousse & Coconut Twill

$7

Bananas Foster Bread Pudding

Vanilla Bean Ice Cream, Spiced Rum Caramel

$7

Chocolate Espresso Pot De Creme

Whiskey Caramel Sauce, White Chocolate Mousse, Chocolate Covered Espresso Beans

$7
Cocktails & Wines by the Glass.
***To see our Reserve list for Whites & Reds, please click the blue "DOWNLOAD PDF" button at the bottom.***
Cheers!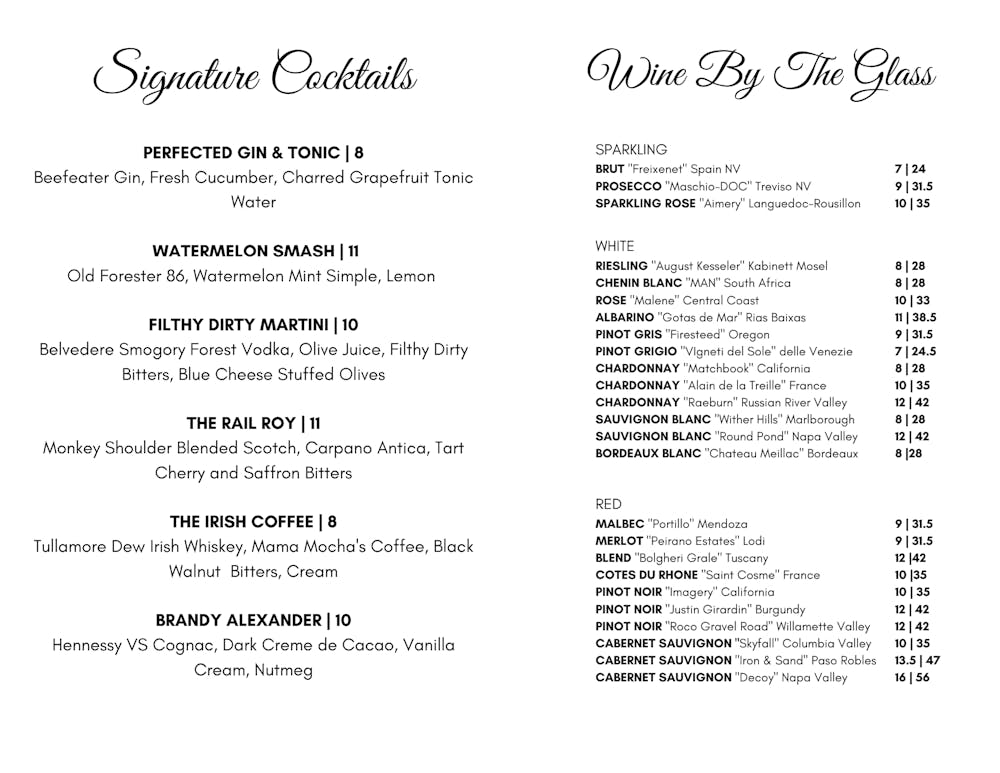 Download PDF
Draft Beer Selection
Straight to Ale

Chill Pils 16oz

$6

Back Forty

Truck Stop Honey Brown Ale 16oz

$6

Fairhope

Amber Ale 16oz

$6

Sierra Navada

Pale Ale 16oz

$6

Avondale

A-OK IPA 14 oz

$6

Victory

Golden Monkey Belgian Tripel 12 oz

$6

Wicked Weed

Burst Watermelon Dragonfruit Sour 12 oz

$6

Good People

Snake Handler 2x IPA 14oz.

$6
Bottle and Can Selection
Abita Andygator

$6

Blue Moon

$5

Bud Light

$4

Budweiser

$4

Coors Light

$4

Hop Dang Diggity IPA

$6

Michelob Ultra

$4

Miller Lite

$4

Modelo Especial

$6

Stella Artois

$5

Good People IPA

Can

$6

Guinness

Can

$6

Trim Tab Raspberry Berliner Weisse

Can

$6
Bar Happy Hour
4 pm-7 pm *Bar Only*
$5

House Red, White, Bubbles

$4

Draft Selections | Rotating

$7

Specialty Cocktails
Happy Hour Specials from the Kitchen
5 pm-7 pm
Tuesday Tapas

Wednesday Sushi

Thursday $1 Oysters