Main content starts here, tab to start navigating
Menus
Slide 1 of 9
Slide 2 of 9
Slide 3 of 9
Slide 4 of 9
Slide 5 of 9
Slide 6 of 9
Slide 7 of 9
Slide 8 of 9
Slide 9 of 9
This menu is available for dine-in and patio only
We change our menu daily and the menu for the day will be posted by 5:00 pm
*If you are looking to order online for pickup or delivery, click here!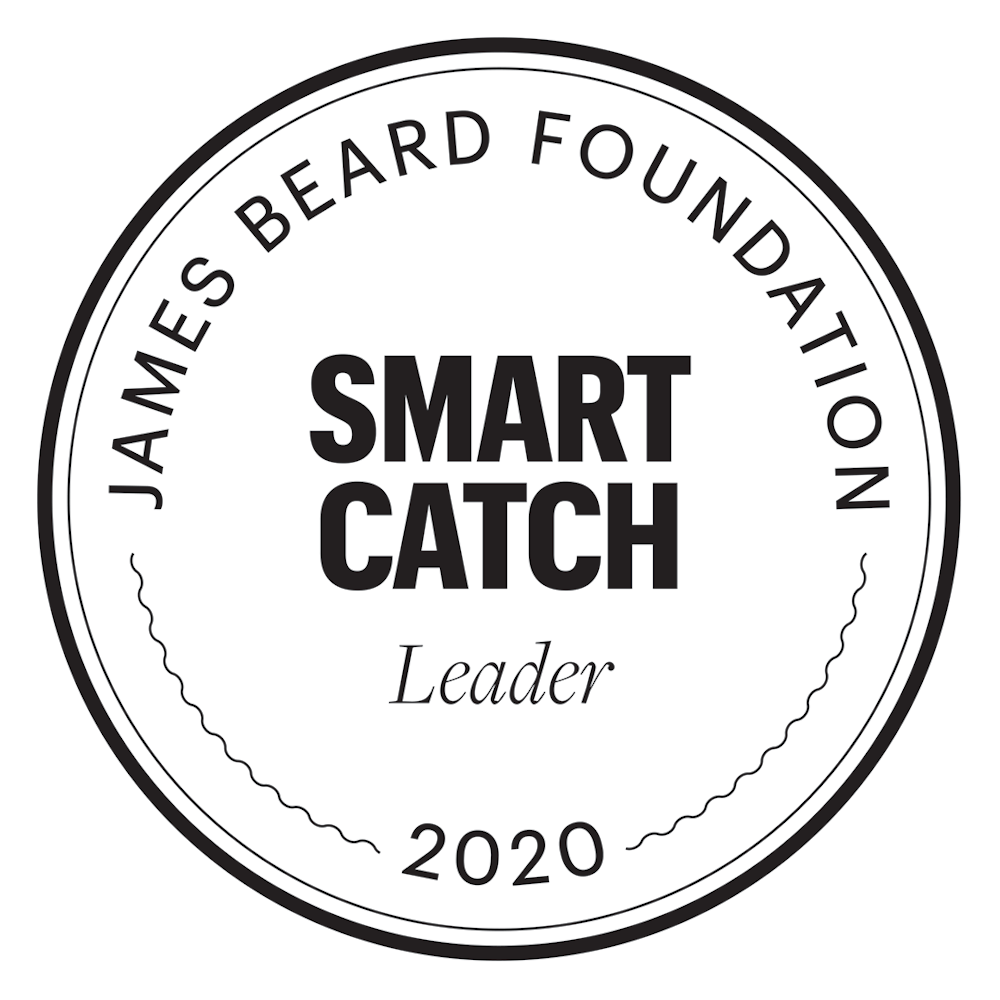 Starters and Shareables
Spicy Blue Crab Dip

Mexican Style Chorizo Pork Sausage, Melted Cheese, Blue Crabmeat, Dill Dusted Corn Tortilla

$14

Half Dozen Baked Oyster Rockefeller

Creamed Fennel & Spinach, Parmesan Herb Crust

$14

Cherry Almond Salad

Ralf's Mixed Greens, Dried Tart Cherries, Toasted Almonds, Lemon Poppy Seed Dressing (GF)

$11

Half Dozen Jalapeño Gulf Grouper Fritters

Roasted Red Pepper Remoulade, Parmesan Cheese

$12

(GF - Gluten Free. V -Vegetarian, VG - Vegan, O - Optional)
Mains
Meat, Poultry, Seafood
Pan Seared Carolina Rainbow Trout

Bacon & Apple Cider Braised Cabbage, Grain Mustard Butter (GF)

$27

Caccuicco (Tuscan Seafood Stew)

Fresh Catch, Shrimp, Mussels, Simmered Tomatoes, Garlic, White Wine, Chili Flakes, Saffron & Herb Broth & Asiago Toast (GFO)

$28

Cajun-Stuffed Maine Lobster Bienville

Spicy Andouille, Garlic, Cayenne Blue Crab Stuffing, Buttered Broccolini, Blue Corn Grits, "Sazerac" Buerre Blanc (GF)

$39

Snake River Farms 1/2 LB Grilled American Wagyu Burger

Ralf's Bibb Lettuce, Local Tomato, Bacon Mayo, Gouda, Sea Salt French Fries (GFO)

$17

Crispy Skin Joyce Farms Half Chicken

Honey, Garlic & Chili Glaze, Sautéed Asparagus, Grilled Sweet Potatoes (GFO)

$26

Tea Brined Beeler Farms Can Can Pork Chop

McEwen Blue Corn Grits, Bacon Balsamic Brussels, Asian Gochujang BBQ (GFO)

$32

Grilled 12 oz Dry-Aged Black Angus Ribeye

Duck Fat Onion Mushroom Hash, Green Peppercorn Au Poivre (GF)

$36

(GF - Gluten Free. V -Vegetarian, VG - Vegan, O - Optional)
Fresh Daily Oysters
All Raw Oysters served with Lemon Wedges on Crushed Ice & House Made Green Apple, Ginger & Shallot Mignonette. See Happy Hour Pricing in PDF menu above.
*Turtleback, Portersville, AL

Plump Meat, Sweet Corn, Moderate Salinity (GF)

$2.25

*Murder Point, Bayou La Batre, AL

Plump Oyster, Buttery, Fresh, Crisp Finish (GF)

$2.50

*Indian River Lagoons, Bethune Beach, FL

Smooth Briny Start with a Sweet Clean Finish (GF)

$2.25

*Consuming raw or undercooked meats, poultry, seafood, shellfish, or eggs may increase risk of food-borne illness
Sides
$7 each
Sea Salt & Fresh Horseradish House Cut Fries (V)

Savory Mashed Sweet Potatoes (GF,V)

McEwan Farms Smoked Gouda Grits

Duck Fat Roasted Onion & Mushroom Yukon Hash (GF)

Bacon Balsamic Brussels Sprouts (GF)

(GF - Gluten Free. V -Vegetarian, VG - Vegan, O - Optional)
Desserts
Goat's Milk Vanilla Crème Brûlée

White Chocolate Mousse & Coconut Twill

$7

Bananas Foster Bread Pudding

Vanilla Bean Ice Cream, Spiced Rum Caramel

$7

Chocolate Espresso Pot De Creme

Whiskey Caramel Sauce, White Chocolate Mousse, Chocolate Covered Espresso Beans

$7
Cocktails & Wines by the Glass.
***To see our Reserve list for Whites & Reds, please click the blue "DOWNLOAD PDF" button at the bottom.***
Cheers!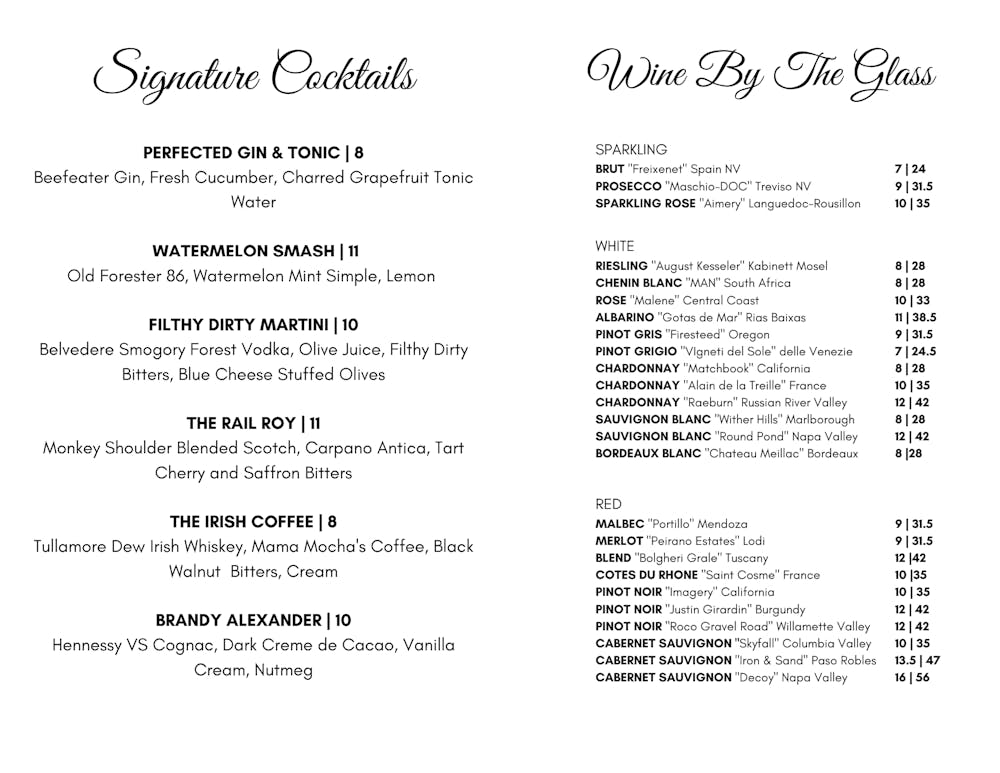 Download PDF
Draft Beer Selection
Straight to Ale

Chill Pils 16oz

$6

Back Forty

Truck Stop Honey Brown Ale 16oz

$6

Fairhope

Amber Ale 16oz

$6

Sierra Navada

Pale Ale 16oz

$6

Avondale

A-OK IPA 14 oz

$6

Victory

Golden Monkey Belgian Tripel 12 oz

$6

Wicked Weed

Burst Watermelon Dragonfruit Sour 12 oz

$6

Good People

Snake Handler 2x IPA 14oz.

$6
Bottle and Can Selection
Abita Andygator

$6

Blue Moon

$5

Bud Light

$4

Budweiser

$4

Coors Light

$4

Hop Dang Diggity IPA

$6

Michelob Ultra

$4

Miller Lite

$4

Modelo Especial

$6

Stella Artois

$5

Good People IPA

Can

$6

Guinness

Can

$6

Trim Tab Raspberry Berliner Weisse

Can

$6
Bar Happy Hour
4 pm-7 pm *Bar Only*
$5

House Red, White, Bubbles

$4

Draft Selections | Rotating

$7

Specialty Cocktails
Happy Hour Specials from the Kitchen
5 pm-7 pm
Tuesday Tapas

Wednesday Sushi

Thursday $1 Oysters