Old Forester Dinner
March 9 2021 | 6:00 PM - 9:30 PM
124 Mitcham Ave, Auburn 36830
Old Forester Whiskey Dinner
We are so excited to bring the Old Forester Whiskey Row Line to our tables paired with our culinary team's creations.
This will be a 5-course dinner paired with an Old Forester selection
During the night of the event you can choose to have a straight pour of the offering or the craft cocktail created by Lead Bartender Clint Mimms.
The event doors will open at 6pm and dinner to begin at 6:30pm
To be conscious of Covid guidelines we are selling tickets by the table. If you have an odd number of guest please add a ticket for a table of 1 to create your reservation. If you have multiple groups wanting to sit together but purchase separate, please state in the notes the name of the other guests to be seated at your table.
Tickets include the 5 course dinner paired with 5 Old Forester selections with gratuity included and tax excluded.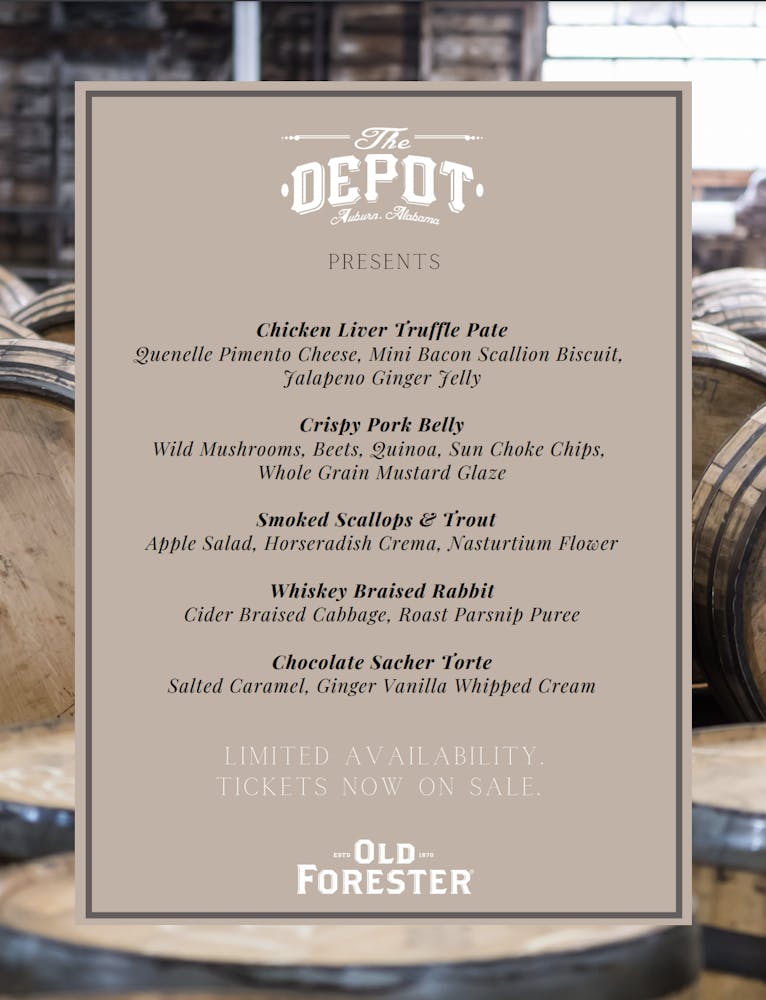 Menu
Chicken Liver Truffle Pate
Quenelle Pimento Cheese, Mini Bacon Scallion Biscuit, Jalapeno Ginger Jelly
Crispy Pork Belly
Wild Mushrooms, Beets, Quinoa, Sun Choke Chips, Whole Grain Mustard Glaze
Smoked Scallops & Trout
Apple Salad, Horseradish Crema, Nasturtium Flower
Whiskey Braised Rabbit
Cider Braised Cabbage, Roast Parsnip Puree
Chocolate Sacher Torte
Salted Caramel, Ginger Vanilla Whipped Cream