Main content starts here, tab to start navigating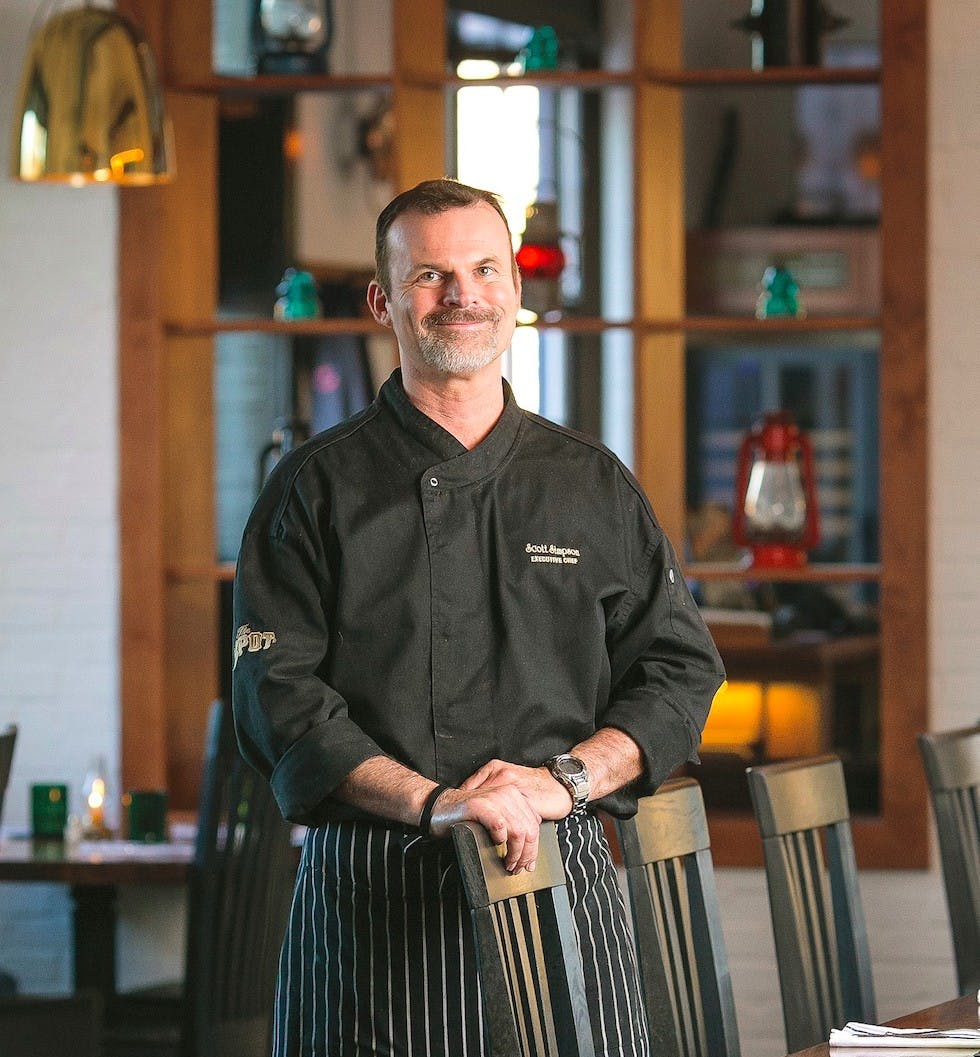 Chef Scott Simpson
Executive Chef & Owner
Scott Simpson's culinary career spans over 30 years. As Executive Chef and Co­Owner of the historic Auburn Depot in Auburn, Alabama, Chef Simpson is bringing globally inspired cuisine to the heart of the South. Growing up with rich culinary roots from a Mexican and Italian heritage, Chef Simpson was surrounded by food as a child and quickly learned that his passion would also be his profession. Chef Simpson's education and background include training in Florence, Italy at the Guilliano Bugiallis Professional Culinary School (the first English language cooking school in Italy) and at the Culinary Institute of America in Napa Valley, CA, where he trained under such prestigious chefs as Rick Bayless, Roberto Donna, Michael Chiarello, Terri Sanderson and Karen McNeil.
Chef Simpson began his career as a Chef at Vicorp Specialty Restaurants in San Diego, CA, for the company's highest volume establishment and as corporate training chef for the region. Next, he joined Mille Fleurs in Sante Fe, NM, which was ranked as one of the top 10 French restaurants in the United States. Subsequently, he opened Mille Fleurs Brasserie in Palm Desert, CA as Chef de Cuisine, where he received first place in the U.S. Chef Open Competition. That same year, Chef Simpson became part of the leading hospitality brand, Marriott International, when he joined J W Marriott Desert Springs Resort & Spa as a specialty chef responsible for the development of Ristorante Tuscany, which became a flagship restaurant at Marriott properties around the world. During his time in Palm Desert, personal recipes were produced for both Gourmet and Bon Appetit Magazine.
Later, he was selected to open the ninth luxury JW Marriott Hotel in Quito, Ecuador, where he worked as Executive Chef and Director of Restaurants. In this capacity, he helped train Marriott chefs from Buenos Aires, Lima, and Panama, and performed as in international judge in the Culinary Olympics in Santiago, Chile and was actively involved in establishing the "Mesa de Los Chefs" culinary organization in Ecuador. From the Andean city of Quito, Chef Simpson continued his global culinary expeditions with Marriott International to Mumbai, India.
As Executive Chef at the Renaissance Hotel & Marriott Lake Chalet Apartments, he was responsible for the largest convention center hotel in the country and led a kitchen staff of more than 150 associates. His food and beverage expertise helped the property garner the #1 ranking for overall guest satisfaction in the Renaissance Hotel brand. While living in India, Chef Simpson also assisted with a hospitality task force abroad in Bangkok, Thailand and other areas of Southeast Asia during his tenure. He also was part of the creation of the Western India Culinary Association, WICA, in Mumbai, India. In 2004, Chef Simpson relocated back to the United States and was appointed as the new Executive Chef for the AAA­Four Diamond hotel, JW Marriott Desert Ridge Resort and Spain Phoenix, Arizona.
As the largest luxury resort in Arizona, Chef Simpson was responsible for 200,000 square feet of meeting space and over 10 dining and lounge outlets. While in Arizona, Chef Simpson's food was ranked #1 in Quality out of 300 Marriott Resort Hotels in the U.S. during 2003. From Arizona, Chef Simpson was recruited by the former president of the Ritz Carlton Hotel groups, Horst Schulze, to join a portfolio of top­tier ultra-luxury hotels by Capella Hotel. Joining their elite task force, he helped open exclusive resorts in Mexico, Singapore, and Bali.
In 2008, he was assigned to open the premier Caribbean property at the Solis Palmyra Hotel in Montego Bay, Jamaica. Gaining expertise skills in the Caribbean and Jamaican cuisine, Chef Simpson was also was on the board of the Culinary Federation of Jamaica, in charge of all culinary education programs. After Jamaica, Chef Simpson helped open the critically acclaimed Capella property in Georgetown, DC, and then was tasked with overseeing the culinary restoration The Founders Inn (Capella Managed Hotel) for the company in Virginia Beach, VA full­time as Executive Chef. During his time, the main restaurant Swan Terrace went from #648 on Tripadvisor to #4 for the city of Virginia Beach. As a Board Member at the Culinary Institute of Virginia, Chef Simpson was actively involved with the charitable organization, March of Dimes.
Receiving critical acclaim from Coastal Living, Best Hampton Roads, and Virginia Beach Awards, Chef Simpson brought best of fine dining with his sustainable cuisine. In 2014, Chef Simpson transferred to Auburn, Alabama to become Executive Chef & Culinary Educator for The Hotel at Auburn University and a role as a culinary instructor for Auburn University's Hospitality program. After spending some time in Auburn, Chef Simpson met the Poiriers, locally loved restaurateurs, and together with General Manager, Richard Tomasello, they decided to open a gulf seafood brasserie at the Auburn train Depot and the rest in Alabama history.